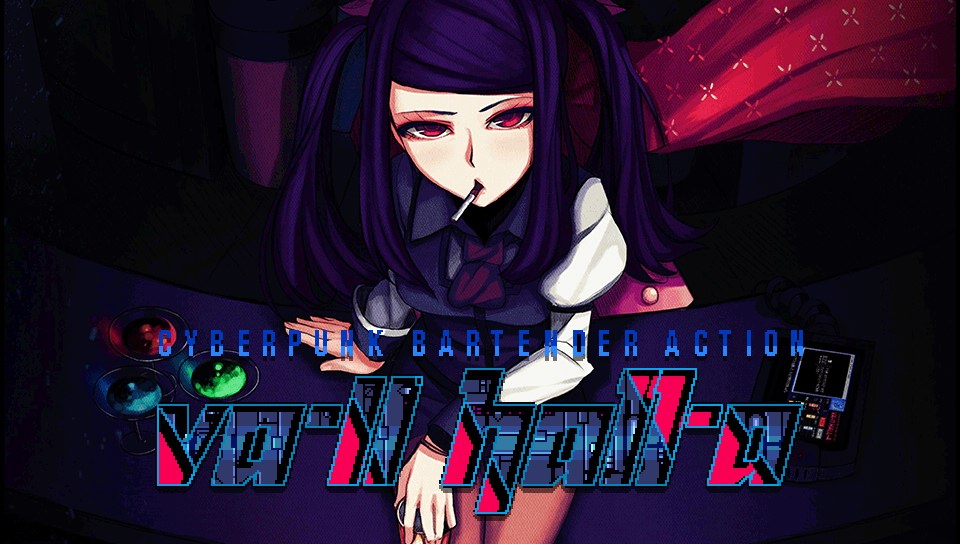 In this Achievement Guide for VA-11 Hall-A Cyberpunk Bartender Action, I will quickly document how to reach all the endings and get every achievement. Beware, that this means that there are going to be spoilers especially as you scroll down towards the endings and more obscure achievements.
There are not going to be any more warnings, so read at your own discretion. I would like to use this opportunity to strongly urge you to play at least one or two playthroughs yourself though, as VA-11 Hall-A is a special kind of ride that you should experience without background knowledge first. If you are unsure about the game, have a look at this review.
Achievements

Welcome to VA-11 Hall-A!

How to achieve: Start the game


G'evening

How to achieve: Start the first chapter


Coming right up

How to achieve: Start the second chapter


Time to mix drinks and change lives

How to achieve: Start the third chapter


Please come again

How to achieve: Finish the game


Welcome back!
How to achieve: Start a new game+


Caci…que?

How to achieve: Get all of Stella's orders right on Day 3 and she will gift you some rum on Day 4.
Spoilers: Something that has it's name changed is Piano Woman. A drink in honor of somebody is Piano Man.


Cyberfunk

How to achieve: Buy and use both the Leopard print nanocamos


I know what I said

Serve someone the wrong drink


Flawless service

Get a flawless service record for every day


Did you miss me?

How to achieve: You get this as you meet Anna again. Should happen on day 14.


(´・ω・`)

How to achieve: Press K L I O or P while at the bar


I like it, okay?

How to achieve: Fill your whole playlist with a single song


So unnecessary

How to achieve: Buy every decoration possible


Hit the jukebox

How to achieve: Unlock all the songs on the jukebox by buying them all from the store.


An old friend

How to achieve: Serve any guest a Flaming Moai.


A different breed of a cat

How to achieve: Give Stella a Flaming Moai.


On a hacking pilgrimage

How to achieve: Give Alma a Flaming Moai.
Spoilers: A Flaming Moai is done by mixing 1 Adelhyde, 1 Bronson Extract, 2 Powdered Delta, 3 Flanergide, 5 Karmotrine (it's the Fibonacci Sequence)


Hey Jules

How to achieve: Buy the game "Model Warrior Julianne" and the console, then play on it.


In the name of beauty!

How to achieve: Win a video game


Jill of all trades

How to achieve: Unlock every other achievement in the game


Underappreciated drink

How to achieve: Give any guest a Crevice Spike.


Don't call me Becky!

How to achieve: Satisfy Dorothy with all her orders.


I feel like an adult

How to achieve: Pay all your bills.


Deep breaths

How to achieve: Give Sei a drink that she prefers. (Cold, sweet and non-alcoholic)


Employee of the month

How to achieve: Get every flawless service bonus possible.


Focus!

How to achieve: Purchase every item that Jill needs to not get distracted.


Ending related achievements
And now, for something completely different…

How to achieve: Get the good ending.


Sisterly bonding
How to achieve: Get Alma's ending.


Dorothinquisition!

How to achieve: Get Dorothy's ending.


Cozy hell

How to achieve: Get the bad ending.


Tim's Curry

How to achieve: Get Virgillo's ending.


Listen to my song!

How to achieve: Get Kira Miki's ending.


How to get every ending (Warning: Spoilers!)
Every ending in VA-11 Hall-A gives an individual achievement


Bad Ending
Get evicted by failing to pay your rent. Note that getting this ending will stop you from getting the other endings on this playthrough.


Good Ending
Pay the final $10000 bill on time.


Kira Miki's Ending
Purchase the Mulan Tea and give it to Kira Miki on her first visit. Once she asks for another drink, give her a drink she likes that has alcohol in it. She will later return and give you concert tickets, thus unlocking this ending.


Dorothoy's Ending
Serve Dorothy and Sei the drinks they want. Whenever Dorothy feels down or wants you to guess her favorite drink, pick a Piano Woman.
Whenever Sei comes into the bar and asks for a drink that Jill questions, give her something cold and non-alcoholic instead.


Virgilio's Ending
Serve Virgilio to his full satisfaction. When he asks for 17, you need to give him a drink that has a total amount of 17 ingedrients. "Something fake" refers to Frothy Water. "Purity" means you need to serve him Zen Star.


Alma's Ending
Same as above, give Alma what she wants. If she asks for a classy drink, serve her a Brandtini. She will feel down in a later part of the game and you need to serve her another Brandtini.